Dental Implants
Dental implants are a long-term solution for tooth loss. Hertford Dental Implants offers dental implant solutions to replace anything from one to all of your natural teeth, whatever the reasons for tooth loss. They can be used to treat a number of scenarios, including:
Single missing tooth
Missing back teeth
Missing front teeth
Multiple missing teeth
All teeth missing/failing in the lower/upper jaw
All teeth missing from both jaws
Stabilising loose dentures
A dental implant is an artificial tooth root, made out of titanium and placed in direct contact with your jaw bone during a minor operation here at our Hertford dental practice. Most people only require local anaesthetic for this procedure. As soon as the implants are in place, they begin to fuse with the jaw bone in a process called osseointegration. Over an average period of six months, they will become as strong as natural tooth roots.
Once your dental implants have healed and integrated with your bone, you will be called back to our Hertford clinic to have your permanent new teeth attached. These can be: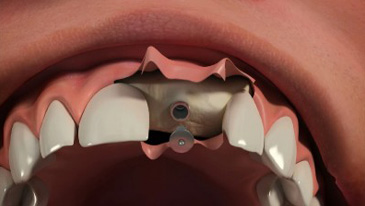 As well as keeping your new teeth securely in your mouth, dental implants also address the issue of bone loss, which is common in cases of multiple or all missing teeth, and is the primary cause of traditional dentures losing their comfortable fit.
Bone loss also causes changes to your appearance as the structure of your face is altered, often resulting in a sunken, prematurely-aged look. Dental implants keep the bone strong and healthy, and prevent all of these issues.
At Hertford Dental Implants our dental implant work is carried out by Principal Dentist Dr Gordon Black. Dr Black has been awarded the Implant Diploma from The Royal College of Surgeons and, in 2015, was a finalist in the National Dentistry Awards for a full-mouth rehabilitation case with dental implants. He will provide bespoke treatment designed to suit each patient's individual needs, whether you have lost one tooth, some teeth, or all of your natural teeth.
Dental implants offer an aesthetically-pleasing smile and all the functionality of a second set of natural teeth. They alleviate common denture problems, including:
Difficulty eating healthily
Changes to speech
Denture sore mouth
Slipping dentures affecting confidence