Missing all your teeth?
If your dentures are becoming uncomfortable and tiring, we have a fast, efficient and comfortable solution that will give you a second chance at the feeling of a mouth full of stable, permanent teeth.
All-on-4 is a revolutionary and highly advanced new method that allows a full mouth of new teeth to rest with complete, proven stability on only four implants. Here's what it involves:
State-of-the-art technologies such as CT Scanners are used to plot the location of just four implants in your jaw.
These implants form a sturdy base for a full arch of dentures to be secured on top of.
The dentures will then be permanent. They look and function just like natural teeth.
You walk out on the same day with a beautiful, natural, functional smile!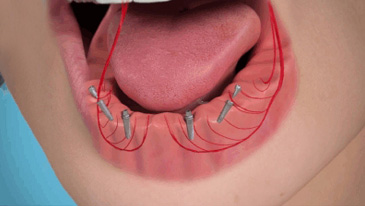 At our practice, we understand the impact a smile can have. We would never send you out without a complete smile. That's why, usually, we will fit you with a temporary bridge (which looks identical to your natural teeth and functions just as well) before we add your permanent denture six months later.
We also offer sedation options for nervous patients. Dentistry doesn't have to be frightening! With modern sedatives, many patients will hardly know they've been in surgery.
Life Benefits
Your perfect smile will enhance your confidence.
No need to hold back your laughter.
No need to restrict your choice of foods.

After coming to terms with the fact that I was going to have all my top teeth removed, Gordon and his team put my mind at rest by explaining the various stages and processes of my treatment. I never felt fear or pain during my treatment as Gordon and his team made sure I was comfortable at all times. My biggest fear was the thought of being left without teeth whilst waiting for my implants to be fitted and waiting for the gums to heal etc, but I wasn't. A denture was made prior to the removal of my teeth and was fitted the same day that my teeth were extracted. My permanent teeth were fitted when my gums had healed and I am so pleased with the result. I now have a great natural smile and I forget that I am wearing a denture. So a huge thank you to all the staff at Hertford Dental Care.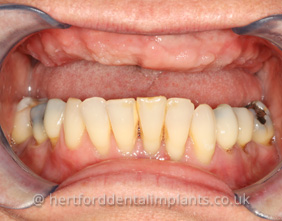 Before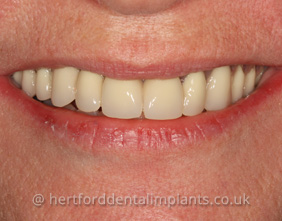 After

JM had lost the majority of her upper teeth and was wearing a removable denture. The remaining upper teeth were of poor prognosis and it was decided to plan a full upper arch implant supported prosthesis. JM was keen to have the remaining teeth extracted, implants placed and prosthesis attached to implants all in one session. This was all carried out using the All-on-4 concept.
Planning was carried out prior to the main session with CT scanning and moulds of the mouth so that the final prosthesis could be fabricated prior to the implants being placed. At the main appointment both oral surgeon and lab technician were at the practice so that everything could be completed simultaneously. JM left the surgery with her final prosthesis attached to the implants and was able to smile confidently immediately!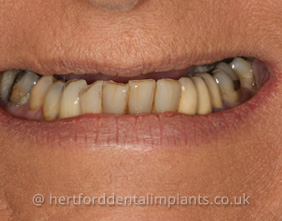 Before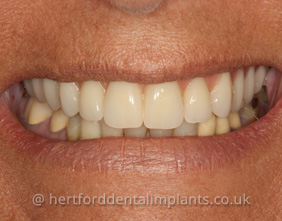 After

SB only had a few remaining teeth which required extraction due to mobility. SB tried wearing full dentures and found she coped well with the upper dentures but not with the lower ones. It was decided to place 4 implants in the lower jaw so that a lower prosthesis could attach to the implants and hold it rigidly avoiding movement of the prosthesis and increasing eating efficiency.
Following diagnostics with a CT scan, the implants were placed and left to integrate for 3 months. Following a few visits to record the position of the implants and the aesthetics of the teeth, the final prosthesis was attached to the implants.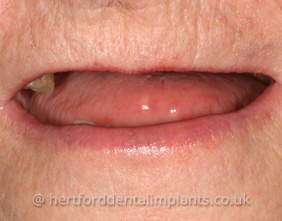 Before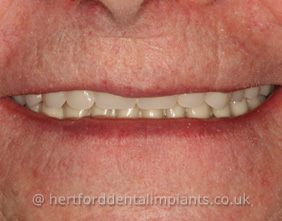 After