Do you feel that your missing teeth are preventing you from smiling with confidence? At Hertford Dental Implants, we want you to feel unafraid of showing off the teeth you deserve. Whether you're missing a single or multiple teeth, the effect is just as devastating. You may have to watch what you eat, avoiding certain things and only eating soft foods as a result. It may even be that as a consequence of weak jawbone density, you struggle with a gaunt appearance in your face.
Thanks to our team of dental professionals, you can receive dental implants in Hertford. Having to deal with the irritation of missing teeth should no longer be an option for you. Instead, you might consider booking a consultation with one of our friendly dentists, who will be helpful in guiding you towards the right decision.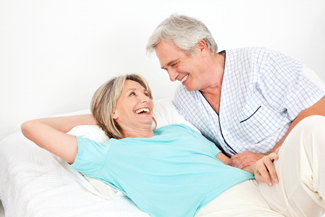 Start smiling, dental implant in progress
In Hertford, dental implants are a desirable prospect for patients who just want their smile back after tooth loss. Before treatment, you will be asked about your medical history, your lifestyle, and habits, as well as how you desire your teeth to be.
Whether you are missing a single tooth or multiple teeth, one of our implant dentists will carefully explain your personalised treatment plan. That way, should you have any questions or concerns regarding the procedure, you will have time to discuss them.
During treatment, your implant dentist will begin by fixing in a titanium screw into the place where the missing tooth once was. This screw encourages the growth of new bone and begins to fuse with the jawbone over time. Eventually, the screw acts as an artificial tooth root, which can then be topped off with replacement crowns, bridges, or dentures. From there, all we ask is that you maintain the cleanliness of your brand new smile.
Thanks for visiting, see you soon!
After your treatment, you'll have follow-up appointments with the same dentist, just so they can ensure everything is going smoothly for you. We're certain that you'll be left grinning after you've had treatment with dental implants in Hertford.