If you are looking for dental implants in Hertford, we can help. Our Hertford dental practice offers a number of implant-based treatments, which can be used to replace anything from one to all of your natural teeth, no matter why you have lost them.
Tooth loss isn't the life-changing event it once was. True, it is still frightening, and if caused by dental decay or gum disease, it's an indicator that it's time to make some lifestyle changes to preserve any remaining natural teeth, or to keep replacements in top condition. However, by choosing dental implants in Hertford, you are choosing a positive investment in your smile.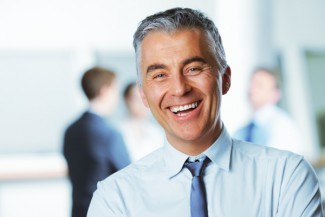 Dental implants in Hertford: how it works
When you come into our practice for a consultation about dental implants in Hertford, you will be seen by a highly experienced implant dentist. Your dentist will carry out a complete clinical examination, and may take x-rays or CT scans as required, to assess your jaw bone density and to aid with diagnosis and treatment planning.
Choosing dental implants in Hertford means choosing to have a second chance at a healthy set of natural teeth. Dental implants should only be placed in a healthy mouth, so if gum disease or dental decay has been a contributory factor to your tooth loss, this will have to be treated first.
Once you have had your dental implants in Hertford fitted, you should book an appointment with the practice hygienist, to learn how to clean your new teeth and implants effectively. It's not complicated, but it is always worth brushing up on your techniques to ensure that your new teeth have the maximum chance of success.
With proper care, dental implants can last a lifetime. You will need to come back to our Hertford practice on a regular basis for check-ups and hygiene appointments, and should always report anything of concern – such as bleeding gums – immediately, even if you are not due a regular check-up for a few months.
To find out more about dental implants in Hertford, including the various finance options available, get in touch today.