Conventional dentures tend to become loose over time. This is because gums tend to recede and the bony structure of your denture that supports your soft tissues is gradually lost. As your soft tissue makes contact with your dentures, you will experience discomfort, sore gums, not to mention a constant struggle to perform simple tasks as speaking and chewing. Fortunately, these problems can be solved with the help of denture stabilisation with dental implants.
At Hertford Dental Implants, we know that dental implants tend to be more expensive than other tooth replacement options. Patients who have lost more than one tooth, or all their teeth, often prefer dentures because they are more cost-effective. What if we told you that you can now benefit from both treatments at the fraction of the cost? Dentures supported by Hertford dental implants are an ideal option for patients who have lost many teeth and wish to restore the functionality and appearance of their mouth.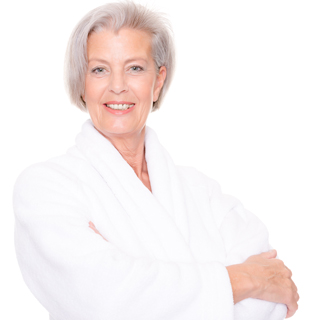 What is denture stabilisation?
Denture stabilisation is the process of embedding from two to four dental implants into the jawbone in order to stabilise full or partial dentures. Almost identical to regular dental implants but slightly smaller, dental implants used for denture stabilisation are surgically inserted into the jaw at a slight angle in order to provide a safe base for dentures.
With the aid of denture stabilisation treatment, people who used to wear conventional dentures for years, can now enjoy the benefits of dentures and dental implants at the same time. Loose dentures can compromise daily activities such as laughing, speak or even eating with confidence. Denture stabilisation can also help improve your speech, making it easy to have a conversation without concern that your dentures will move.
After having two of four dental implants placed into the jawbone, your dentures will be securely attached to them. Even patients with bone loss can benefit from implant-supported dentures because dental implants are embedded at an angle into the jawbone, thus eliminating the need for bone grafting.
Get in touch
If you are wearing conventional dentures and you would like to explore the benefits of denture stabilisation with Hertford dental implants, contact us today to schedule an appointment.