If you are looking for dental implants in Hertford, you should get in touch with our dental practice, which offers a range of implant-based solutions to missing teeth. At Hertford Dental Implants all of our implant treatments are carried out by Principal Dentist Dr Gordon Black.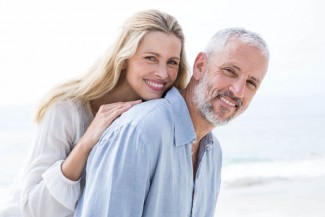 Dr Black has been awarded the Implant Diploma from The Royal College of Surgeons, and was also a finalist in the National Dentistry Awards in 2015 for a full-mouth rehabilitation case with dental implants. By choosing to have dental implants in Hertford under Dr Black's care, you can rest assured of the highest-quality results.
How dental implants work
Dental implants replace the roots of missing teeth, and are the only tooth replacement option that does so. This keeps your jaw bone strong and healthy as well as keeping your new teeth – crowns, bridges, or dentures – securely in position.
The jaw bone will resorb when most or all of the natural tooth roots are missing for any considerable period of time. This will affect the fit of your dentures, causing them to become increasingly loose and unwieldy.
Loose dentures cause numerous problems with:
Diet – you will often be restricted to soft foods and find it hard to get adequate nutrition
Speech – it is increasingly hard to speak clearly
Confidence – if your dentures are prone to slipping or falling out in public, this can ruin your confidence and your social life
Denture sore mouth – caused by repeated rubbing of loose dentures on the gums.
By choosing dental implants in Hertford you can avoid or alleviate all of these problems, getting back all the function and appearance of natural teeth.
Dental implants in Hertford: options
Implants can be used to replace one, some, or all of your natural teeth, in combination with dentures, dental bridgework, or a single crown. Most patients only need local anaesthesia for implant placement, although conscious sedation is also available for those nervous or phobic about dental treatment.
Osseointegration starts the second your implants are in place. It takes a few months to complete, after which your permanent new teeth are fitted.